Two Hungarian university students have created a machine that no global company has been able to
Two young Hungarians came up with an extraordinary innovation just a month ago: the world's first deodorant refill machine. While the creation of the machine itself is a great achievement for 21-year-old Gergely Zámbó and 22-year-old Andor Réti, it could also be a significant step forward in the fight against climate change. Respray can reduce the carbon footprint of deodorant use by three quarters. Just in Europe, nearly two billion deodorant cans are thrown away every year and incinerated in waste treatment plants. In our series Válasz Online is showcasing real Hungarian successes that are not the result of public money handed out for government cronies, but of talent and hard work.

Cikkünk eredetileg magyarul jelent meg, itt olvasható.
You can use the same spray can for about a year, thanks to the Respray machine, which allows you to refill your deodorant cans five times, at a much more affordable price. The machine is the result of Andor Réti and Gergely Zámbó's ambitions, and it's not just theoretical: you can already try it out in a Rossmann drug store in Budaörs, and soon it will be available in two other stores of the chain in Budapest. We sat down to talk to the two young inventors in the Z10 community office of the Budapest University of Technology's incubator programme. It turns out that they were both Eötvös students in the humanities, but they were interested in environmental issues and entrepreneurship from high school.
Over basketball and a chessboard, they started talking about how to bring about systemic change by solving an environmental problem. As high school seniors, the two boys decided to spend a year separately brainstorming ideas, then in December 2019, as freshmen in college, they got together in a café and ran through the possibilities. Although they had previously thought about brewing beer, making hop tea, and even a digital solution to prepare for the Matura Exam and had different energy-related projects in mind, however they finally decided to go with Respray.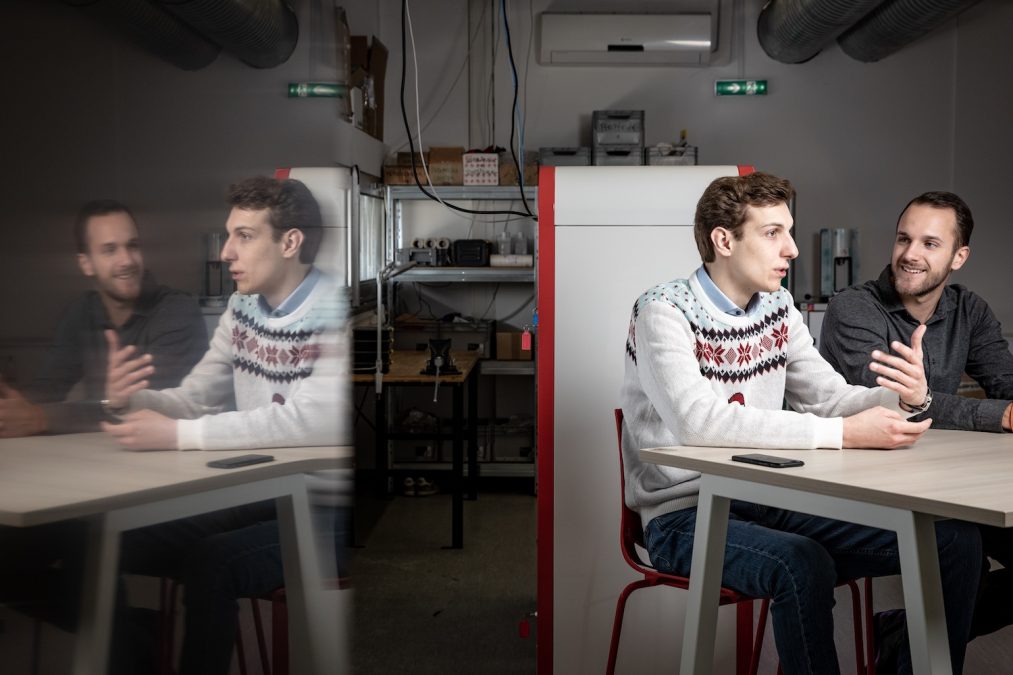 – We have looked at a lot of issues and found that among the products with the highest consumption, a solution has already been found for refilling mineral water bottles, detergent bottles, shower gel bottles. It is up to consumers to decide how widespread they are. However, we have discovered another problem with a very high environmental impact, the dumping of deodorant cans, which mostly don't get recycled because the excess pressure and explosive propellant gasses that remain in them make this process difficult.
Even though aerosol cans are collected separately, in many places they are sorted out at waste treatment plants, thrown into the municipal refuse and incinerated.
We realized that aerosols have a large ecological footprint and that there is no solution to this huge problem, explains Gergely Zámbó, who after high school began to study finance and accounting at Corvinus University of Budapest, while Andor Réti started his studies at the Faculty of Mechanical Engineering at the Budapest University of Technology and Economics. A plan crystallized during their brainstorming sessions, and all that was left to find sponsors.
– I already had a personal mentor, as my high school results had qualified me for a grant of the Carpathian Basin Talent Spotting Foundation. Álmos Mikesy worked for a major venture capital firm, and we pitched our idea to him first. Since start-ups was my research topic anyway, he advised us to start putting it into practice, because we would learn a lot more from this way. He helped us develop our ideas and was the first to see the potential in our concept, says Gergely Zámbó.
Following his mentor's advice, they also got involved in BME's incubator programme with Z10 Startup Campus and Hiventures, where they were guided through the first steps of a 6–8-week training, from the business planning process to financial planning and presentation to investors.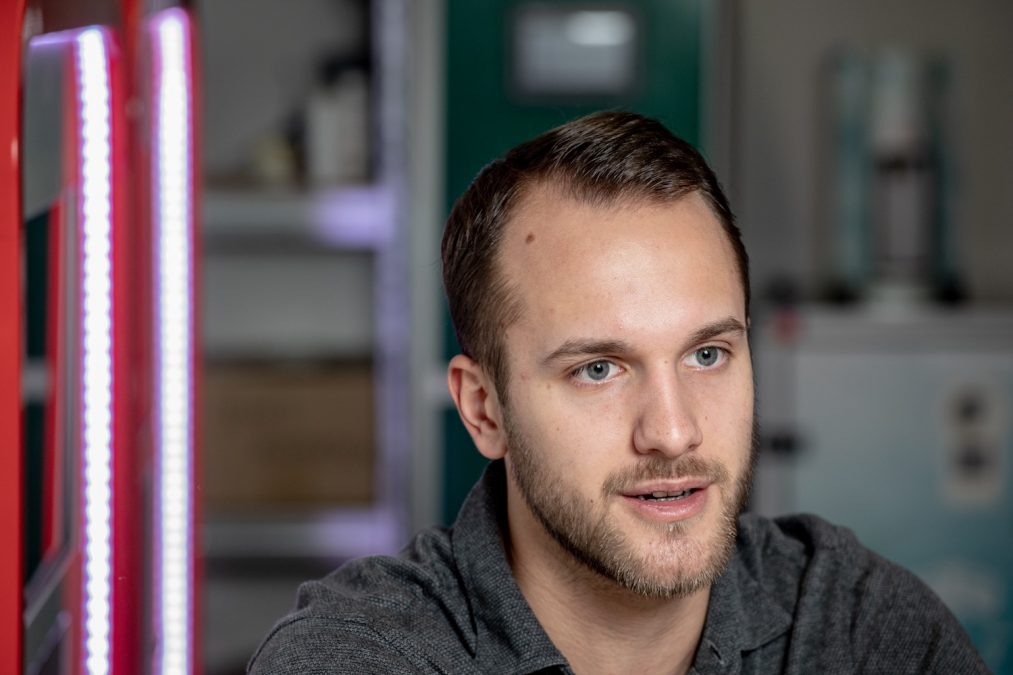 – At the end of the programme, we were given the opportunity to present our plan to investors, and finally the project was given the green light, and in exchange for equity, we were able to start the development with an investment of twenty-million HUF, says Andor Réti. The boys spent their first summer break at university studying all the literature on aerosol products. Then, working with senior engineers, the prototype was born. The green machine, which now sits in the corner, did not yet have as many functions as the new version, but it was already capable of the most important thing: refilling pressurized cans.
– This was just enough to convince Hiventures once again to make a bridging investment of 45 million HUF to fund the development of the project, which was already being carried out in-house with a team of university students, using the knowledge gained during the creation of the previous machine. It was a very exciting time, recalls Gergely Zámbó. As they got deeper into the subject, it became clear to them that
refilling aerosol cans had been a long-standing topic but no one had yet started to actually implement it. And for good reason.
– We encountered a lot of challenges during the development, the industry experts we consulted asked the same questions we did while searching for the solution: how refilling can work safely, how can we separate the existing aerosols from the refillable ones, how can we control the number of times a can is used? In the end we have found good solutions to all these technical challenges. But this took three years of hard work and dedication, which the big players in the market were not really motivated to do, says Andor Réti, who points out that while the manufacturers obviously have no interest in refilling, consumer demand was also questionable.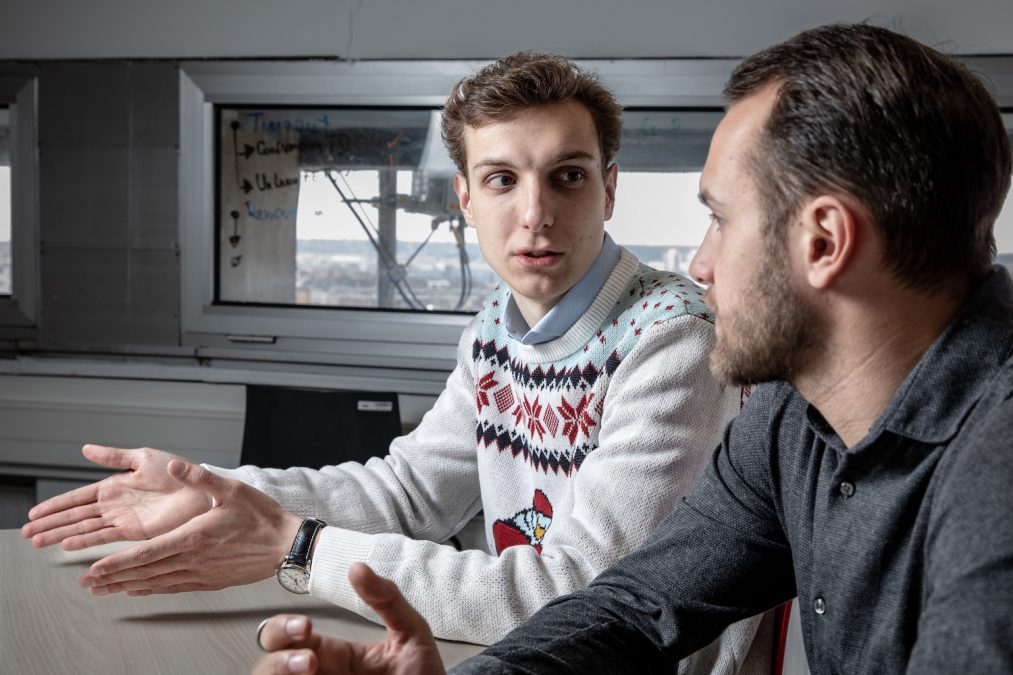 – It is obvious that the trends are moving towards sustainable solutions, but the question is what trade-offs people are willing to make. For example, do they take the can with them when they go shopping? The big manufacturers have done a lot of research on this, but it is important to know that such surveys often do not reflect reality. For instance, when the idea of coffee capsule was first introduced, preliminary surveys indicated that it would be a huge failure. However, it became a success story. Instead of looking at every aspect of it, we simply went for it, adds Andor, who assembled the refill machines by his own hand, and the prototype already seems to be a hit with customers of all generations.
Some have traveled 200 kilometers to try it out. For a 14-year-old, seeing on Tik-Tok, liking the look of the can and the smell of the fragrance, is enough to make refilling cool. Young adults are prone to focus on the sustainability aspect, while pensioners are convinced by the price, as the first refill costs 599 HUF, and the next four refills only cost 299 HUF each time.
Now that the machine is up and running, the young inventors are being approached by the biggest players in the industry, who are surprised to find that what they have been searching for ten years, Andor and Gergő have just made a reality. When I ask the Respray inventors why environmental awareness was their guiding principle in choosing the project, Andor says:
– In our generation, most people have climate anxiety. It's clearly visible where global warming and the many other environmental problems caused by our current lifestyles are leading to. We see that solutions are not being found fast enough and we thought we should do our part to create something that will lead to a more sustainable world.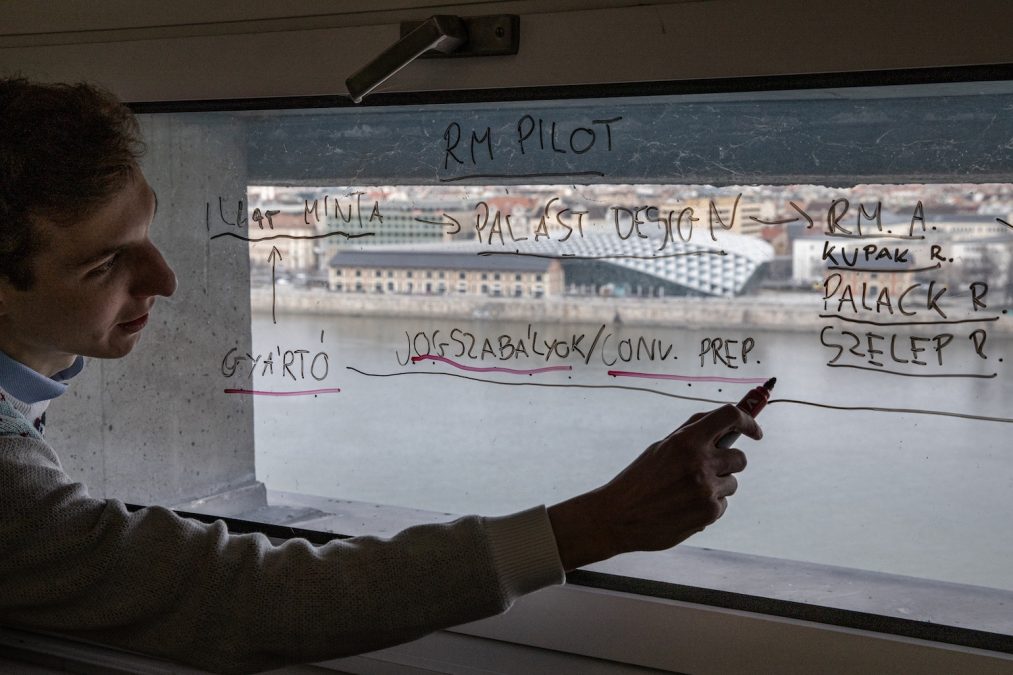 – It was in high school that we were first confronted with the data reflecting this frightening trend, and that strengthened our determination to do something about it, adds Gergő. The operation of the three machines is now being monitored in a test period, and if, together with the drugstore chain, they see a demand for Respray, they will expand the operation to other stores.
The machine is easy to operate, it recognises the returned aerosol can, and refills it with the same fragrance that it had contained previously.
It also prints a label at the end of the process, indicating how many more refills are possible. The machine allows a total of five refills, as "spray experience" is a critical factor for aerosol deodorants, and experiments show that at this number, perfect quality can still be guaranteed.
Prior to the agreement, Rossmann asked the innovators for detailed research on the total CO2 footprint of the refill machine, which was also subjected to rigorous testing to ensure that its operation is safe. The technology developed by the young designers has two separate environmental benefits, besides being able to use the deodorant can multiple times, it uses compressed air instead of propane-butane propellant. Once Respray had successfully met all the requirements, the collaboration was ready to start. Since experience and research has shown that consumers who care for the environment also strive to use deodorants free of parabens, alcohol, and aluminium, thus it makes sense to fill the cans with such products.
The word about Respray has spread far and wide in a short period of time. The start-up's founders have also been approached by the European Aerosol Federation, and have been invited to give a presentation at the British Aerosol Manufacturers Association. But for now, the most important thing is what the public thinks of their invention.
– When people whisper in front of the shop, "Did you hear that Hungary is the only country in the world that has such a machine?", it feels good, but it feels even better that in the current situation we have been able to give Hungarian society something that has received an unanimously positive response, says Gergely Zámbó. We are very lucky to be part of this, he adds modestly.
Because there is much more to it than luck.
---
Translated by Gergely Papp
Cover picture: Gergely Zámbó and Andor Réti (Szabolcs Vörös / Válasz Online)