'Belarus is not a second Maidan' – exclusive interview with the leader of the Belarusian opposition
There is an evolution going on in Belarus, not a revolution because people have experienced that – even with an anti-Lukashenka vote – they can be the majority, the leader of the Belarusian opposition tells Válasz Online. Maria Kalesnikava, a professional flutist and cultural manager, explains they have two major demands but even with the governance of the current opposition Belarus would not turn away from Russia towards the West. The 38-year old leader of the Belarusian mass protests also justifies why is president Lukashenka unable to govern till 2025 – independently from a successful outcome of the protests.

– Belarus is witnessing protests she has never seen before: hundreds of thousands of people are marching for more than 2 weeks, and not just in Minsk but in regional cities too. Would you call it a revolution?
– No, it is not a classic revolution, rather an evolution. An evolution of all Belarusians' mindset.
– Just few hours before our conversation, President Lukashenka's main contender, Sviatlana Tsikhanouskaya, called it 'peaceful revolution' while speaking to the European Parliament's Committee on Foreign Affairs.
– But you are asking me and I have an answer. It is not a revolution in its classical meaning. Everything we see is an evolution within the Belarusian civil society and in people's mindset because, for the first time in the history of modern Belarus, we have the responsibility for our own future. It is, of course, peaceful and there is no aggression – only the government is violent.
– Do you consider yourself the leader of this 'evolution'?
– I am one of the leaders of the evolution and the protests. I am an example however that anybody in Belarus can share the responsibility for what is happening now.
This is exactly the main idea of the protests: to build another type of society which is civil, peaceful and democratic – which we did not have before.
– But this process requires a leader, doesn't it?
– I am not sure because we are witnessing the decentralization of the protests, they are spreading across Belarus, even in villages. Theater and factory workers are on the streets which is quite unique. Meanwhile teachers and medical workers are organizing themselves and going to protest in white cloak and holding flowers in their hands.
– Are you coordinating your strategy with the other two women, Mrs. Tsikhanouskaya and Veranika Tsepkala, with whom you appeared side by side during the election campaign?
– We have contacts with Holga Kavalkova, an ally of Sviatlana Tsikhanouskaya, but she is in jail since Monday and I don't know for how long will she be kept there. We are waiting for the authorities' decision.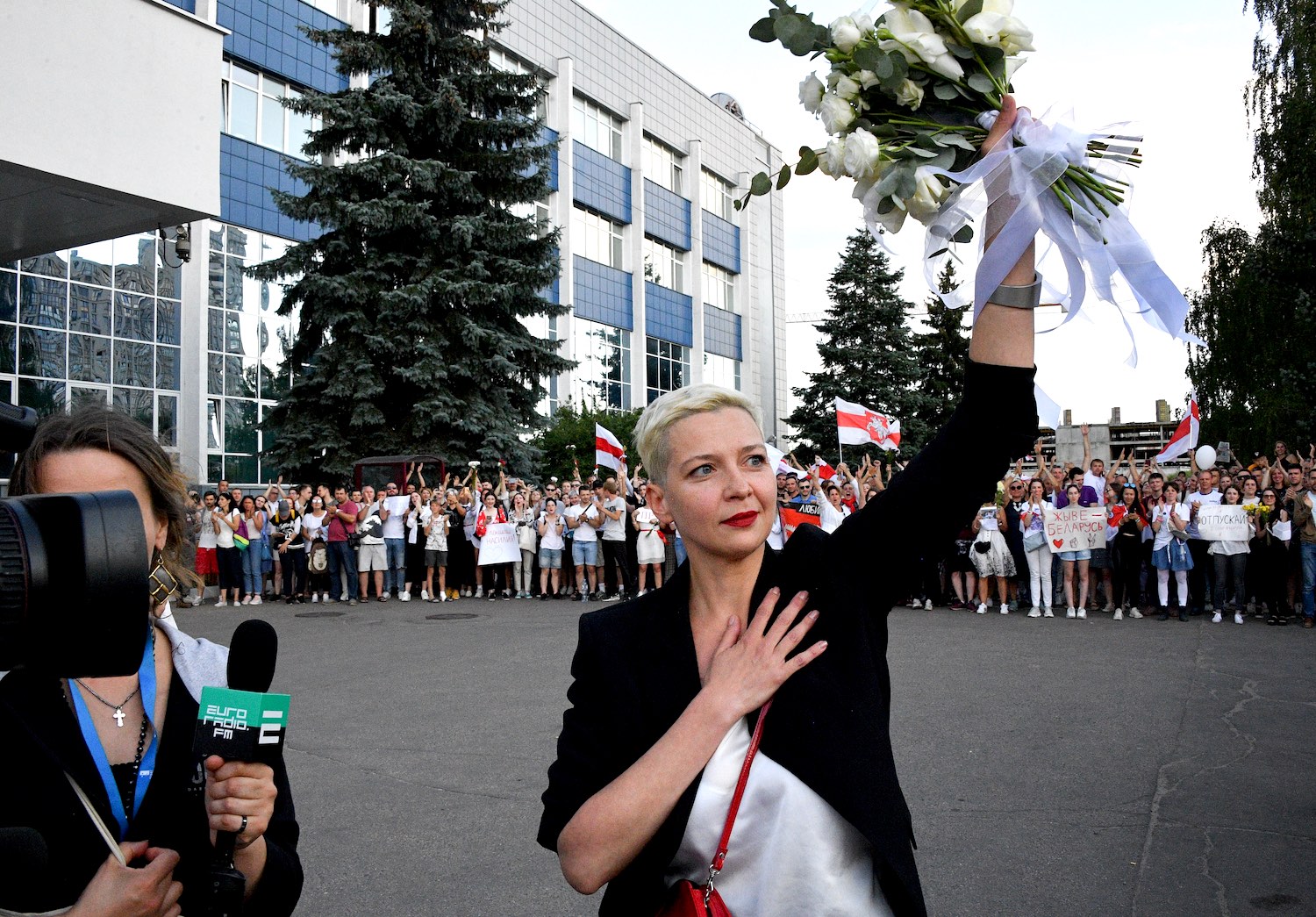 – How different is Belarus now from what she was before the August 9 election?
– It is a new era in our history because for the first time we are witnessing that we are the majority – the majority which has not voted for Lukashenka. In the past 26 years we were sure we were the minority. It is interesting to see how this feeling of being in majority has switched the mindset of Belarusian people; they have realized they also had rights and they would do everything to be heard by the government. Secondly,
the government's violence is unprecedented – Belarusians were damaged of it, not only physically but also psychologically as we have never seen people dying on the streets of Belarus. It was an important but tragic moment.
– How long do you think people are willing to protest?
– Till the victory.
– What is victory?
– People in KGB's prisons should be freed and, of course, new elections should be held. This is the two most important things that we, as a nation, would like to have now. We are aware, however, that it is a difficult process but we insist on these demands.
– President Lukashenka does not seem to buy them, does he?
– Of course not because he does not hear the voice of his own Belarusian people. He is not aware how sure are the protesters in the belief that he has lost the election. No one is afraid of the protests except for him; when people in central Minsk saw the pictures of him holding his Kalashnikov, everybody burst out in ironic laughing.
– The opposition always emphasises, what is written in the manifesto of your Coordination Council, the peaceful nature of transition. If you take it seriously but the president remains deaf to your demands, you have nothing left but to wait until the next election in 2025.
– So?
– Are you willing to wait another five years?
– I don't think we will have to wait that much. Belarus is not only witnessing a jurisdictional and governmental but also an economical crisis, our economic indicators are increasingly backsliding day to day. Combining these with the current political crisis,
it would be physically impossible to govern for another five years. It is not only the crisis of Lukashenka's regime but every branch of the Belarusian society.
Some say the president can keep his office for a few weeks, others suggest he can do it for months. I don't know who is right but I think it will be a couple of months – or a little bit more.
– Let's suppose your demands will born fruit and in a few months new election will be organised, under the supervision of a different election committee. Who should lead the opposition?
– There are about 9 million Belarusians and I am sure there are enough good persons who could lead the opposition. But we are not opposition anymore because we are the majority. I know it sounds a little bit strange but people are aware that they belong to the majority. There is no such authority which could take more than 200 000 people to the streets – only Belarusian themselves and their majority. There are many talented professionals who can be the leader of this new Belarus.
– Are you one of them?
– Right now of course. It was a very difficult transformation for me personally because I was not ready to make it so soon and so quickly: 3 months ago I was the director of a cultural hub in Belarus and now I am a leader of the Belarusians. Of course it is a great responsibility for me but so is for all Belarusians.
– If the Coordination Council decided that you should lead the opposition at the next election, would you accept the invitation? Will Belarus have a president who is a professional flutist?
– I will do all my best to help my country though I have a legal obstacle since I possess German permanent residence permit as I lived in Stuttgart for more than 5 years. I am ready to assist will all my skills but not in the way you have suggested.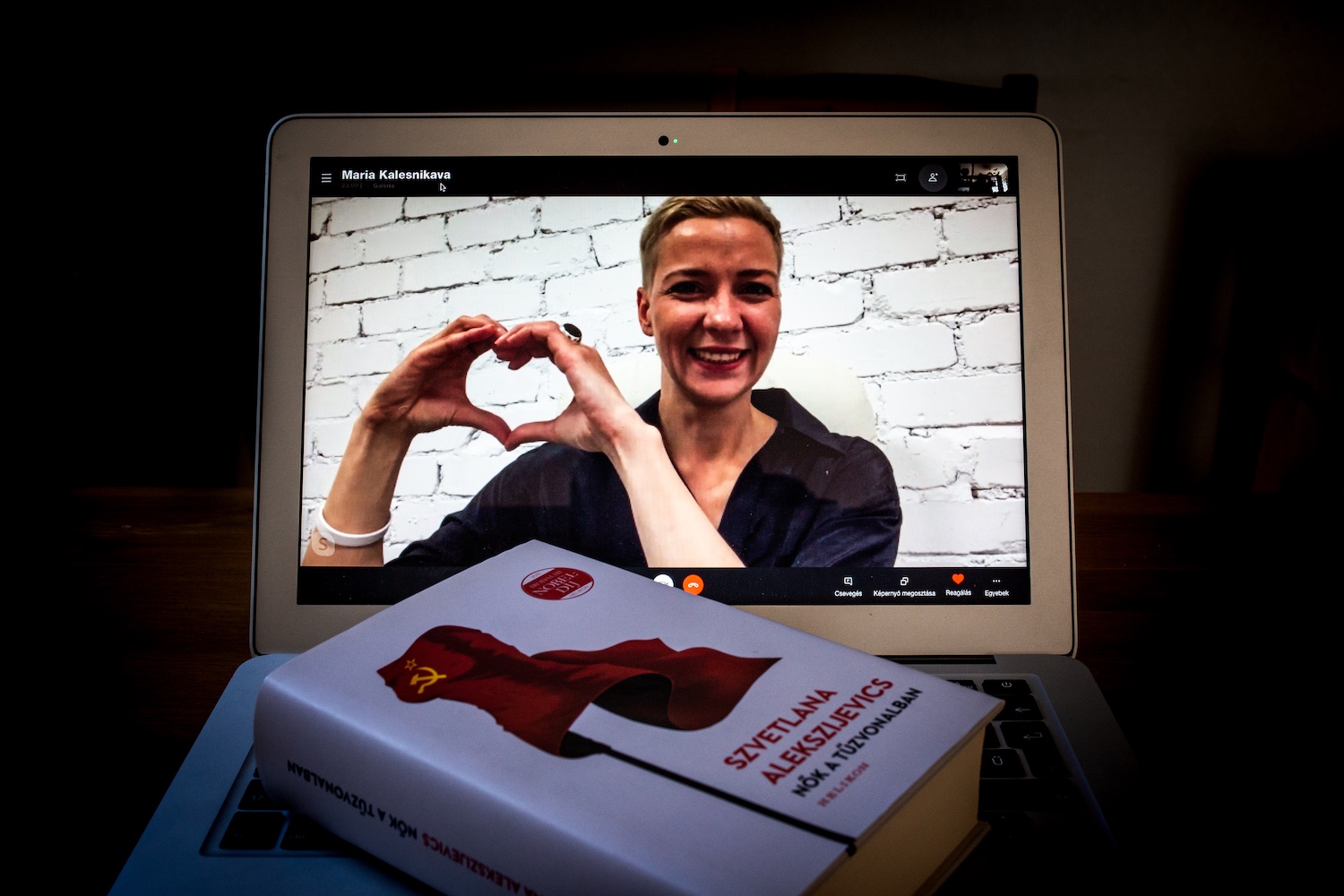 – How is your boss, Viktar Babaryka doing?
– I would call him my colleague rather than my boss. We have received a letter from him in which he expresses his optimism. Physically he is doing good – as much as he can do in a KGB prison.
– In a recent interview with Welt am Sonntag, you disagreed with the EU's intention to impose sanctions on officials responsible for the suppression of mass protests. Why?
– In is entirely my position but I think these sanctions are not consequent. Having them imposed would diminish our chances to have dialogue with the government – the importance of which we also always underline. The EU can help in an other way though: if we will be unable to instrumentalise the dialogue between the Belarusian society and the government, perhaps it could be initiated by Brussels and Moscow.
– Which means Belarus wouldn't leave Russia's orbit in favour of the West.
– Even if Russia thinks we would turn to the West – we wouldn't. This is the first time however when we have the chance to decide our future without the West or the East.
There is no problem with Russia in Belarus because it is our biggest economical and political partner but, apart from Moscow, we would like to have friendly and pragmatic partnership with the EU as well.
The only person who has problem with this approach is the president. He is manipulating both sides – last time by accusing NATO of having military buildup along the borders of Belarus – but no one believes him.
– Having no intention for a geopolitical U-turn, the 'evolution' in Belarus is not a second Maidan then, is it?
– Of course not. That is why I said it was not a revolution.
– Are you not afraid that it can turn violent?
– Only from one side can it turn violent. But from there – it is already violent.
---
Cover picture: opposition figure Maria Kalesnikava, a member of the Coordination Council formed by the opposition to oversee efforts for a peaceful transition of power, attends a press conference on the 16th day of protests over disputed presidential elections results in Minsk on August 24, 2020. Photo: AFP/Sergei Gapon